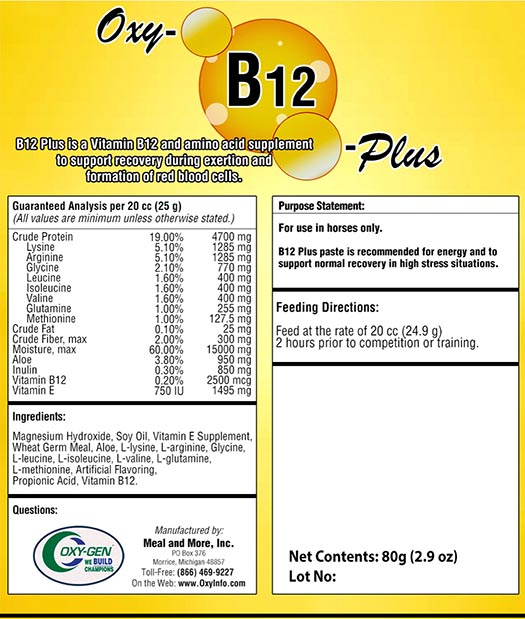 All New by popular request. OxyB12 Plus is a vitamin B12 and BCAA (branch chain amino acid) paste to support the special needs of high performance horses; Energy, Endurance and Recovery.
Great to layer with your favorite performance day pastes. OxyB12 given 2 hours prior to race time will augment the" big punch" benefits of the original OxyGen formula and insure faster recovery following exertion.
During those long weekend events; OxyB12 given daily is a great multi-day/multi-dose supplement to keep them feeling fit and GI tract comfortable. We've added the benefits of Aloe Vera and Inulin for GI comfort and Vitamin E to support respiratory and cellular health. Start the regimen 1 day before you leave and give each day you're on the road.
An 80cc tube provides a qty of 4- 20cc doses.
Have questions? Give Laura a call or text 985-626-9609.
Single Tube $30 provides a qty of 4 - 20cc doses
Package Deal - 3 tubes - $75 (save $15)